Biography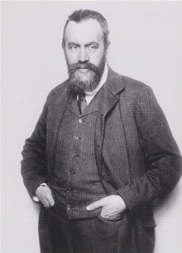 Carl Moll (Natter/Frodl)
Carl Moll, one of the outstanding artists of his time, was born in Vienna, Austria on April 23, 1861. He was not a healthy child and a regular school attendance was not possible. This provided him with a lot of time to devote to painting in his youth. At 15 he filled his first sketchbook during a summer vacation in Salzburg.
His father's early death, in 1877, provided the family with the financial security to afford Moll private lessons in painting and drawing from the landscape painter Carl Haunold. Moll completed secondary school and was accepted at the Academy of Fine Arts. He also had an interest in music but that passion came to an abrupt end at the age of 19 when he suffered a hearing loss due to severe meningitis. This deficit was to accompany him throughout his life. 
At the spring exhibition of the Vienna Künstlerhaus in 1881, Moll's encounter with the paintings of Emil Jakob Schindler proved a revelation. By autumn he was Schindler's student; Moll quickly become a member of Schindler's family, spending the summer in the mountains with Schindler and his wife Anna along with two other Schindler students Marie Egner and Olga Wisinger-Florian in the Salzkammergut. 
Other important contacts for Moll were the composer Hugo Wolf and the architect Julius Mayreder.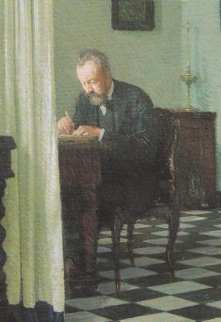 Self-Portrait around 1906
In 1884 - 1885 Schindler rented the run-down Castle Plankenberg, located between Neulengbach and Tulln where for the seven years his close-knit circle spent summers. Schindler's influence inspired Moll to paint naturalistic landscapes and still lifes. Moll and the Schindlers took an extended study trip to Dalmatia: Trieste, Pula, Split and Dubrovnik, traveling to Corfu and then accompanied his teacher to Berlin and the Isle of Wight – their last trip where Schindler died on August 9, 1892. Moll, as Schindler's executor, organized a large estate exhibition.
In 1893 Moll continued his travels spending two years in Northern Germany where he was influenced by the painter Gotthardt Kuehl. Moll's brush stroke becomes more impressionistic. The following year the Austrian Ministry of Culture acquires one of Moll's well known paintings The Naschmarkt in Vienna.
In 1895 Carl Moll married Anna Schindler, his teacher's widow and adopted her daughters Alma and Margarethe. The family moved into a house designed by architect Julius Mayreder in Theresianumgasse in Vienna's 4th district. The home's studio with its large garden quickly became a meeting place for artists. A Sunday salon welcomed such luminaries as Gustav Klimt, Josef Hoffmann, Koloman Moser, Joseph Maria Olbrich, Wilhelm List and other members of the Viennese art scene.
In 1896 differences arose between the Künstlerhaus and the moderns and the moderns were rejected. Led by Moll, they formed their own association. The Vienna Secession was founded on April 3, 1897 with Gustav Klimt as President and Moll as vice president. 
As a result of the split with the Künstlerhaus major artists emerged including Josef Hofmann, Gustav Klimt and Josef Engelhart. A brilliant first exhibition with works by Arnold Böcklin, Fernand Khnopff, Giovanni Segantini, James McNeill Whistler, Auguste Rodin and others followed. Within a little more than half a year, the Secession building, designed by Joseph Maria Olbrich was completed and opened on November 12th. In February 1898 the first edition of the magazine Ver Sacrum appeared.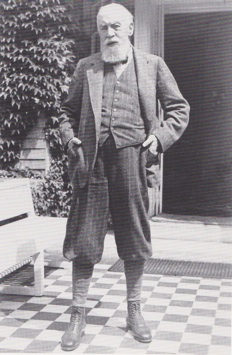 Carl Moll (Natter/Frodl)
Shortly after his first trip to Italy and the birth of his daughter Maria Moll was posted as an Austrian delegate to the Paris World Fair in 1900.
In Döbling, Vienna's 19th district, Josef Hoffmann designed Moll's new home, the "Künstlerkolonie Hohe Warte". Kolo Moser moved in next door. The following year, the mansions of Victor Spitzer and Hugo Henneberg were completed. The buildings are a Secessionist work of art and were a constant inspiration to Moll: he painted the mansions in all seasons with the Hohe Warte, Grinzing, and the Kahlenberg and the Leopoldsberg to be seen in the background.
In 1902 Moll's adopted daughter Alma married the k.u.k. Hofoperndirektor Gustav Mahler, who was to become Moll's major source of inspiration next to Schindler. In 1903 Moll together with Josef Hoffmann, Koloman Moser and the financier Fritz Wärndorfer founded the Wiener Werkstätte. Ver Sacrum's last edition was published that year.
After tensions, the so-called "Klimt Group" (besides Klimt consisting of Josef Hoffmann, Max Kurzweil, Wilhelm List, Emil Orlik, Otto Wagner and Carl Moll) left the Vienna Secession in 1905. Under Moll's guidance, the Galerie Miethke became Vienna's leading auction house and gallery for modern art.
In the years that followed Moll traveled a lot and promoted young Austrian artists, including Oskar Kokoschka, Egon Schiele, Franz Wiegele and Anton Kolig.
In 1911 Gustav Mahler died. In the summer of 1912 Moll became a consultant for the Gallery Miethke. He spent World War I in his second home, on the Semmering, that he ended up losing at the end of the war at auction along with his the rest of his property. Moll's art collection went to the Cassirer Gallery in Berlin.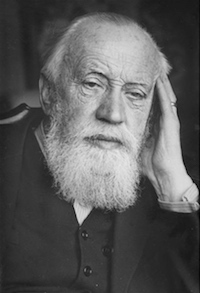 Carl Moll (Natter/Frodl)
After the war, the Molls traveled extensively in Europe. He rejected the opportunity to head the State Art Gallery in Dresden. On his 60th birthday, the Vienna Künstlerhaus presents a retrospective of his life's work. He organized exhibitions for the "Verein der Museumsfreunde in Wien" and later (in 1937) the first Kokoschka solo exhibition in Austria.
In 1930 travels to Algeria inspired several North African landscapes and street scenes. The Secession presented a major Moll exhibit on his 70th birthday. Moll was made an honorary citizen of Vienna and received the State Gold Medal. 
Moll was a supporter of Hitler and German Nationalist thinking. His adopted daughter Alma Mahler-Werfel (by then re-married to writer Franz Werfel) had to leave Vienna when the Nazi regime took over Austria. She had many Jewish artists, collectors and patrons among her friends; it had always displeased Moll to see the glittering celebrations in the neighboring Hohe Warte mansion. It is said that he was not sad to see Alma having to leave Austria. Moll himself spent the war largely at his residence in Styria; his wife had died in 1938. 
In 1942 Carl Moll organized one last exhibition to honor Emil Jakob Schindler's 100th. On the night of April 13, 1945, he feared invasion by Russia and committed suicide together with his daughter Maria and his son-in-law.
To this day, Moll remains one of Austria's outstanding artists.